// thay = width tương ứng // thay = height tương ứng
Sale Executive (Enzyme)
CTC Vietnam, a company belong to CTC Group (Netherlands) established in 1991, is an ingredients sourcing company and distribution primarily for food, health, nutrition, beauty and personal care manufacturing industry.
Position: Sale Executive (Enzyme)
Working location: Ho chi minh City, Vietnam.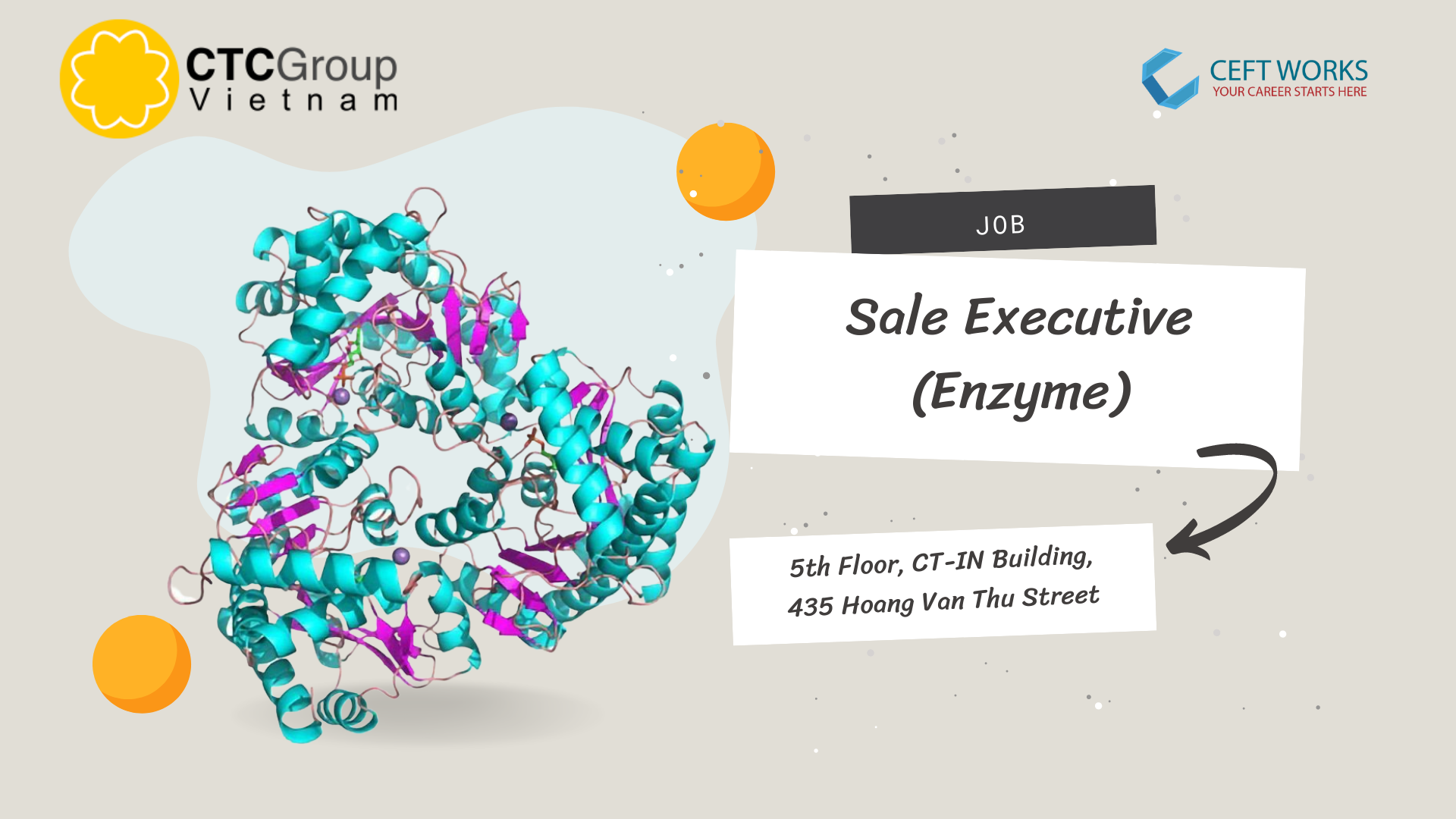 Requirements:
1. Graduated from University with majors in Biotechnology, Food Technology or relevant
2. 1-2 years work experience in companies related to Enzyme, food ingredients, food production is an advantage
3. Good in English communication and writing.
4. Good in using Microsoft office
5. Enthusiastic, dynamic, capable of teamwork and independent work.
Job description
1. Sales Executive for the food industry (Sales Executive) for Enzyme products.
2. Responsible for marketing, sales, increasing the revenue of the assigned product portfolio or the in charge areas
3. Prepare business goals for assigned product categories and areas of responsibility.
4. Coordinate with supervisors to achieve the set goals.
5. Coordinate with supervisors and other relevant departments to ensure good inventory and debt levels
6. Ensure good progress with the suppliers of the assigned product portfolio, build and maintain good relationship with partners.
7. Further details will be discussed in the interview
Benefits:
1. Negotiable salary
2. Comprehensive health insurance package for yourself, and your children (worth about $210/year each person)
3. Given budget for uniforms (worth about $150/year)
4. Being sent to attend training courses of overseas suppliers when necessary.
5. Being sent to attend domestic and foreign trade fairs when necessary
6. To participate in courses to improve soft skills when necessary
7. 13th salary month and bonus based on achievements
For further information and send resume, please contact:
Chu Thi Thuy Hang (Ms)
Email : thuyhang@ctc-group.com
CTC Nutrition Solutions Vietnam (CTC Vietnam)
5th Floor, CT-IN Building, 435 Hoang Van Thu Street,
Tan Binh district, Hochiminh city, Vietnam